Technology has transformed our daily lives with advancements like the Internet, cloud computing, and mobile phones. However, in the world of process instrumentation, change has been slow to come. That is until now. Vögtlin Instruments has introduced a new design in the form of the Red-y Compact Mass Flow Meter, which provides a better user experience for flow measurement.
This new mass flow meter is a game-changer. With a focus on design and user experience, the Red-y Compact offers a more modern and intuitive approach to flow measurement. The device features an easy-to-use touch screen interface, which enables users to quickly and easily adjust settings and view measurements.
In addition to its sleek design, the Red-y Compact offers high accuracy and reliability, making it ideal for a wide range of applications, from research and development to quality control and process optimization.
The Vögtlin Instruments Red-y Compact honored the "BEST IN FLOW: INNOVATION AWARDS 2016".
AA Battery Powered Mass Flow Meter/Controller
Battery-powered mass flow meters have been in use in the industry for some time, but the Vogtlin Red-y Compact takes it to the next level. Unlike many other battery-powered mass flow meters that require custom-made batteries, the Red-y Compact is powered by just one AA battery, making replacement a breeze. The battery life is long-lasting, with a single AA battery powering the device for up to six months. The AA battery even powers the mass flow regulator for flow control.
Touch Screen enabled Mass Flow Meter
Mass flow meters with touch screens are a rare find in the market, making the Vogtlin Red-y Compact a true game-changer. With its touch screen interface, the Red-y Compact allows for direct interaction between the user and the device, providing a more intuitive and user-friendly experience.
Mass Flow Meter with USB Port
The Vogtlin Red-y Compact series has introduced a groundbreaking new feature: the first USB-powered mass flow meter. In addition to the common AA battery and 24VDC power options, the inbuilt Micro USB port allows users to power the mass flow meter using any USB power source.
The portable mass flow meter is now even more convenient with the Micro-USB port, enabling long hours of flow monitoring without the need for frequent battery replacements. The Red-y Compact can also use the port from time to time for firmware updates, making it even more versatile and user-friendly.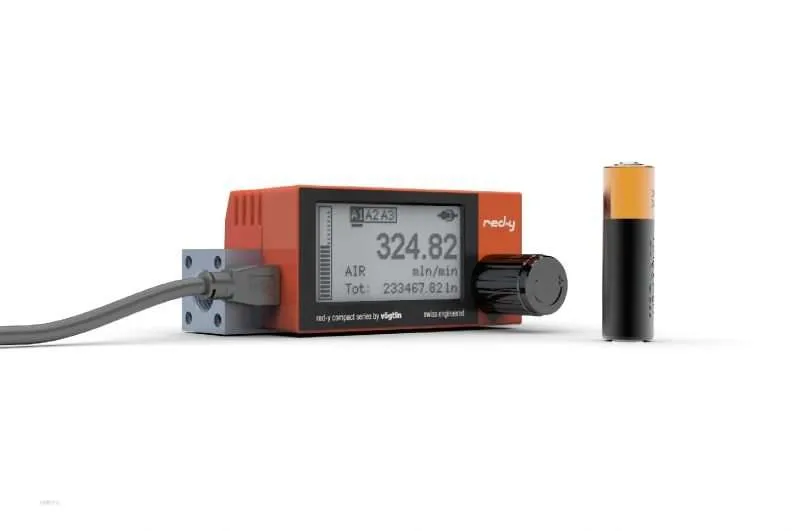 Auto Screen Rotating Mass Flow Meter/Controller
Mass Flow Meter hardly replaces Variable Area Flow Meter, which comes for 2 reasons. Pricing & Installation.
Pricing: Mass Flow Meter is generally higher than Variable Area Flow Meter due to the electronic part and higher accuracy. In a demanding industry, accuracy is almost equivalent to the price. Therefore Mass Flow Meter delivered something that VA Flow Meter did not, accuracy & Stability.
Installation: Mass Flow Meter often displays in one direction only (Horizontal or Vertical). However, the new upgraded Vogtlin Red-y Compact is now capable of rotating the display at 270°. Hence it solves the problem of installation in the VA Flowmeter. The readout of the flow reading is now as clear as never before.
Multi Gasses Mass Flow Meter/Controller
The Vogtlin Red-y Compact can store up to 3 different curves for different gases or gas mixtures in its memory. Gas selection is possible from the display if the ordered unit with multiple gases option. The maximum flow rate is shown at the back of every gas name. To purchase Three flow meters for Three different gases, the Red-y Compact save cost with One device for Three gases.
REAL Gas Calibration Mass Flow Meter/Controller
Last but not least, in Vogtlin Instruments, accuracy is the priority, therefore all Red-y Series Mass Flow Meter out from factory with REAL Gas calibration. The Mass Flow Meter is calibrated with REAL gas to ensures high accuracy and reproducibility.