ILM-4: The new generation of conductivity sensors
Anderson-Negele's ILM-4 inductive conductivity sensor-transmitter offers an all-in-one design that makes integration and commissioning a fast and simple task. Built with flexibility in mind, the ILM-4 can offer multiple outputs freely configurable to multiple conductivity measurements at independent ranges or a combination of conductivity and temperature. Unlike other inductive sensors, the ILM-4 has a fast-reacting integral PT1000 sensor that can be used to monitor process temperature eliminating the need for a second temperature sensing device. Available in multiple wiring configurations, the ILM-4 configurable with single cable operation for simple conductivity applications or dual cable operation to utilize all available output and input capabilities. Standard with all models is an operational range up to 999 mS/cm and temperature compensation over a range of 0° and 150°C.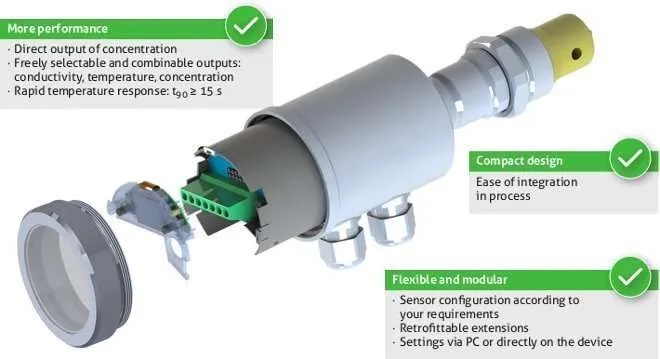 Measurement of conductivity of liquid media for
Controlling of CIP processes (e. g. phase separation detergents/water)
Concentration measurement (e.g. Alkali and acid concentration in remaking)
Monitoring of product quality & quality control
The new conductivity meter ILM-4 is compatible with the predecessor models ILM-2 and ILM-3.